The Palóc "Country" is home to Hungary's largest Catholic ethnic minority.
We live in north-eastern Hungary and in the southern part of Slovakia.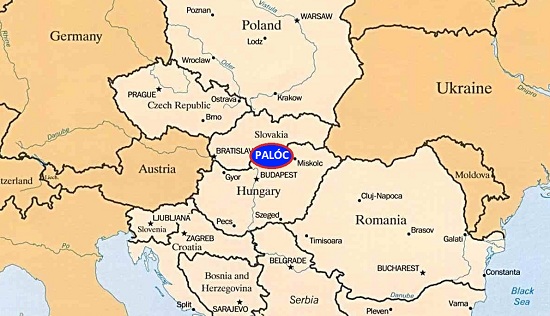 Taking the Palóc Route means the visitor is exposed to living traditions, an architectural style, handicrafts, cuisine, folk music and folk dance. The small villages still don traditional costume, the larger settlements and towns organize events to express the traditions with. The World Heritage site, Hollókő, was placed on the list of world sites to be protected for its living costumes, its natural surroundings, its unique complex buildings and the love of its inhabitants for their own traditions.
Apart from the ethnic cultural traditions, there is much else to be experienced on the Palóc Route: the highest peaks in Hungary, the highest villages in the country, lakes, waterfalls, nature protected areas, marked walking trails, teaching trails, medicinal spas, climatic resorts. The one and only dry medicinal baths in Hungary, the largest vine growing region, the most visited museum, the first underground mining museum, mediaeval castles, fortresses, churches, places of pilgrimage are all part of the Palóc experience.
You too can take part in the events through which we preserve our traditions, you too can try our food and wines; you can learn our dances and our games. Visitors receive a warm welcome from all those who live here, for the sights and programmes have been joyfully put together by them, out of love for their homeland and to show both their descendents and their guests how life and work was lived and celebrated here. Preserving and showing the rich folk art, and all the beauties which generation after generation created.
Come and follow the Palóc Route, see the sights along the route all at once or one by one. Come and take part in our everyday life, our festivals and celebrations!